Antarctica, South Georgia, and the Falklands
on National Geographic Resolution
Antarctica, South Georgia and the Falklands
One of the grandest wild experiences the planet offers
The ultimate Southern Ocean experience, this South Georgia Island cruise expedition takes you into majestically spectacular wildness. Not even the vast migrations of Africa can rival the awesomeness of seeing a king penguin colony of tens of thousands individuals stretching as far as the eye can see. Or albatross colonies that fill the windward edges of the remote islands they call home. You'll have other rare sightings here too: massive, in both senses of the word, herds of elephant seals: and a wandering albatross stretching its 11-foot wings. It's the impossible beauty of an Antarctica trip exponentially increased by unimaginable numbers of animals. A not-be-missed polar experience, for those with the luxury of time.
For most travelers, visiting Antarctica is a once-in-a-lifetime experience. So, for those with the luxury of time, including the Falklands and South Georgia Island cruise just makes sense. And makes for a genuine experience-of-a-lifetime. This voyage has it all.
The impossible beauty of Antarctic ice
Massive wildlife spectacles in South Georgia and the Falklands
Three distinct regions to experience
Superlative photos ops and on-board photo assistance
Lindblad-National Geographic expedition team to illuminate it all
About National Geographic Resolution
About Lindblad Expeditions

Going where awesome is for 50 years
Lindblad Expeditions goes to the most amazing places on the planet—40+ geographies in all. And they've planted a flag in many of them, deeply committing to remote wild places—like South Georgia and the Falklands; Patagonia, where they opened up Staten Island, 'the island at the end of the world,' for eco-tourism; and remote and beautiful regions of Polynesia, including the Marquesas Islands where few go.
Teams that do whatever it take
...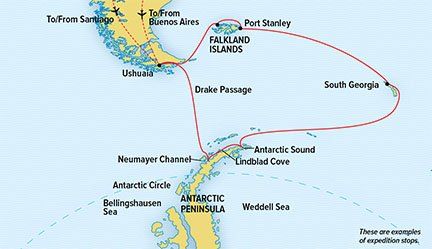 Day
Destination
1-2
U.S./Fly to Buenos Aires, Argentina (Explorer/Endurance) or Santiago, Chile (Orion)
3
Fly to Ushuaia/Embark
4
At Sea
5-10
Antarctica
11-12
At Sea
13-17
South Georgia Island
18-19
At Sea
20-21
Falkland Islands
22
At Sea
23-24
Disembark Ushuaia/Fly to Buenos Aires (Explorer/Endurance) or Santiago (Orion)/Home
1
U.S./Fly overnight to Santiago, Chile
2
Arrive Santiago, Chile/Overnight Hotel
3
Santiago/Fly to the Falkland Islands/Embark Ship
4
Exploring the Falkland Islands
5-6
At Sea
7-12
South Georgia Island
13-14
At Sea
15-20
Antarctica
21-22
At Sea
23-24
Disembark Ushuaia, Argentina/Fly to Buenos Aires/Home