Southwest Native Trails End Albuquerque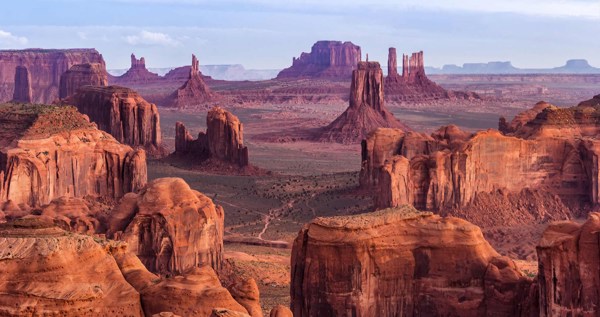 Southwest Native Trails End Albuquerque
This immersive Native American Cultural Heritage tour will delight anyone who wants to delve deeper into the captivating culture and traditions of the Southwest. From Chaco Canyon's Pueblo structures to Hovenweep National Monument's villages through local historians, you'll embrace history of the Ancestral Puebloans as well as current thriving Native American cultures of the Southwest.
Dining Summary
1 Welcome Reception (WR)
10 Breakfast (B)
2 Lunch (L)
3 Dinner (D)
Be My Guest
Santa Fe: Visit Nambé Pueblo, a Native American community in the foothills of the Sangre de Cristo Mountains famous for its public ceremonies and traditions, strong agriculture, traditional textiles and world-renowned pottery. Once the primary cultural and religious center for the northern New Mexican pueblo communities, Nambé Pueblo has existed at this site since the 14th century. Take in the sprawling land of nearly 20,000 acres of towering cottonwoods, junipers, scrub oak and an occasional outcropping of sandstone on your cultural visit including lunch with the community elders.
Dive Into Culture
: Visit Trujillo's weaving shop and admire the New Mexico weaving tradition that dates back to Spanish Colonial times. Learn about the Trujillo family, whose members have been weavers in the Chimayo tradition for eight generations.
Iconic Experience
Albuquerque: Home to one of the largest petroglyph sites in North America, featuring designs and symbols carved onto volcanic rocks by Native Americans and Spanish settlers 400 to 700 years ago. These images are a valuable record of cultural expression and hold profound spiritual significance for contemporary Native Americans and for the descendants of the early Spanish settlers.
Albuquerque: Visit the Indian Pueblo Cultural Center in Albuquerque, gateway to the 19 Pueblos. Learn about the pueblo from ancient times to modern day through the museum and art galleries.
: See the graceful red sandstone arch geological formation for which the capital is named Tségháhoodzání (Window Rock). The small Memorial Tribal Park is not only home to Window Rock, but also to the Veterans Memorial, built to honor the many Navajo people who served in the U.S. military.
Canyon De Chelly National Monument: See an ancient community built into a sandstone cliff as you peer over the edge of the White House Overlook to see the mastery of Ancient Puebloan construction. Watch nature defy gravity when you encounter Spider Rock and hear the legend of the mythical Spider Woman who is said to live in this towering stone spire.
Bluff: Visit Hovenweep National Monument, one of the most intriguing pre-historic settlements in the Southwest, known for its six major villages and more than 300 additional sites within the National Monument.
Mesa Verde National Park: There's no better place to learn about the ancient cliff dwellings of the Ancestral Puebloan people than at Mesa Verde National Park. View the carvings in the sandstone of the canyon walls at the several hundred of these dwellings – astounded by the history presented before you. This UNESCO-listed park also features thousands of well-known preserved archaeological sites. Take in the sites of this protected area as you ride along the Mesa Top Loop and Cliff Palace Loop, where you can see the magnificent Cliff Palace.
Taos: Experience Taos Plaza, a Historical Landmark and artist colony in the heart of the Taos Historic District, home of 65 galleries, shops, restaurants, and 21 landmarks.
Taos: Explore Taos Pueblo with Local Specialists who call Taos Pueblo home. Gain insight into the history of the pueblo and what it is like to live there today.
: Cross the Rio Grande Bridge, a steel deck arch bridge, roughly 600 ft above the Rio Grande and one of the highest bridges in the United States.
Taos: Journey through arid landscapes as you travel along High Road, a cultural and geographical feast for the eyes. Arrive in Santa Fe, the 'City Different' and one of UNESCO's Creative Cities Network, as City of Design and City of Crafts and Folk Art.
MAKE TRAVEL MATTER®
Chaco Canyon National Historic Park: Stop at the Chaco Culture National Historical Park Visitor Center, and enjoy a picnic lunch with a Local Specialist.
Canyon De Chelly National Monument: Meet a Navajo Local Specialist and take 6X6 vehicles to the bottom of Canyon De Chelly for the most incredible natural sites.
Monument Valley: Immerse yourself in the landscape of the Navajo people journeying through the desert to Monument Valley Navajo Tribal Park accessing roads, places, sites that are closed to the general public. Get a feel for the land and its people climbing aboard an open-air, all-terrain vehicle to explore the valley with your Navajo guide as you pass its towering sandstone buttes and mesas, many of which have been featured in prominent Western films including John Wayne's 'Stagecoach'. Your exclusive Navajo Tribal Park tour with a Navajo guide helps preserve the integrity of the land and culture. Your visit directly supports United Nations Sustainable Development Goal 10: Reducing Inequalities.
: Visit the Canyons of the Ancients Visitor Center and Museum, Southwest Colorado's leading archaeological museum, displaying exhibits on archaeology, local history and Native American cultures.
Santa Fe: Meet Emigdio Ballon the agricultural director at the Tesuque Pueblo Community Farm. Learn about this Indigenous community and their efforts to achieve food sovereighty by preserving heirloom seeds and by growing their own food.
Santa Fe: Visit the 50-acre property on a private tour with local specialist to see some of Allan Houser's most amazing works known for his magnificent sculptures and pain...
Educational and Learning
National Parks and Preserves

Imagine unmissable experiences you've always dreamed of, getting to know the locals and having everything taken care of every step of the way.
Here's what you'll experience:
Must-sees to local secrets
Visiting bucket list sites are a highlight of traveling, however, traveling on your own can make them hard work. Don't queue with other sightseers for hours, with Trafalgar our experts unlock doors - think exclusive access to the Vatican out of hours or a
...
Book by 2024-01-19 to receive $489.00 Last Minute Deal Discount. Airfare not included
Book by 2024-02-16 to receive $501.00 Last Minute Deal Discount. Airfare not included, Various departures
Book by 2024-05-31 to receive $525.00 Last Minute Deal Discount. Airfare not included