Vietnam Express Northbound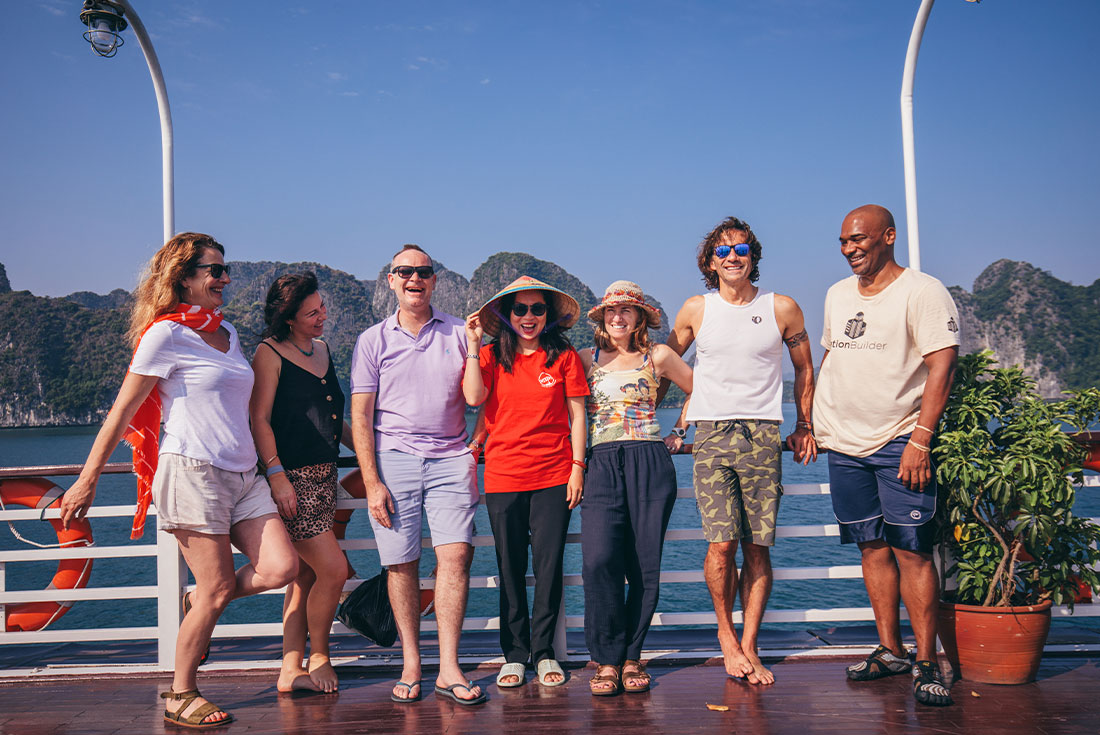 Vietnam Express Northbound
Go behind the scenes of Vietnam's hot-spots on a small-group adventure that avoids the tourists. From the fast-paced hub of Ho Chi Minh City to the charming capital of Hanoi, experience the beautiful landscapes, history-soaked monuments and all the delicious cuisine in between as you traverse the country from South to North like a local: paddle through the waterways of the Mekong Delta in a sampan, explore remote villages via tuk-tuk, cruise through the waters of Halong Bay on a traditional boat, wander the car-free streets of Hoi An on foot and discover the imperial icons of Hue from the back of a motorbike – and with the guidance of your expert local leader, you'll discover secrets to this South-East Asian gem that you simply won't find in a guidebook.
Activities
Mekong Delta - Mekong Delta Day Trip & Village Tuk-Tuk Tour
Mekong Delta - Lunch
Hoi An - Old Town walking tour
Hue - Imperial City Full Day Tour
Hue - Royal tomb of Emperor Tu Duc
Hue - Highlights & back streets by motorbike
Hue - Motorbike Tour Lunch
Hanoi - Temple of Literature
Hanoi - One Pillar Pagoda & HCM stilt house
Hanoi - Old Quarter Walking Tour
Halong Bay - Overnight Boat Cruise
Hanoi - KOTO dinner
Halong Bay - The Green Life Visit
Highlights
See the very best that Vietnam has to offer in just 10 days as you traverse the country from bottom to top with a small group of up to 15 new friends.
Visit some of the must-see sights with your group such as a walking tour in Hoi An and the Temple of Literature in Hanoi, as well as plenty of free time to make your own discoveries.
Spend an unforgettable night on a boat in Halong Bay, one of Vietnam's most remarkable natural wonders, and visit a centre dedicated to turning the bay's discarded trash into beautiful, handcrafted items.
Sample local food wherever you go: a seafood dinner on Halong Bay, lunch at a Buddhist nunnery, coconut candy in the Mekong Delta, and a final dinner at KOTO restaurant – oh, and did we mention the street food?
Have expert advice on hand the whole way with an experienced local leader to help you get the best out of your time in Vietnam.

For over 30 years we've been taking travelers around the globe. That's over 30 years of adventures, of visiting new places and old friends, of countless unforgettable moments. More than 30 years of changing the way people see the world, on small group tours with like-minded Intrepid people.
As a responsible business, we've always been committed to being there for our travelers and the communities we visit. So, you can trust that when you travel with us, we won't just be there for you
...