Ecuador, Galapagos & Peru Explorer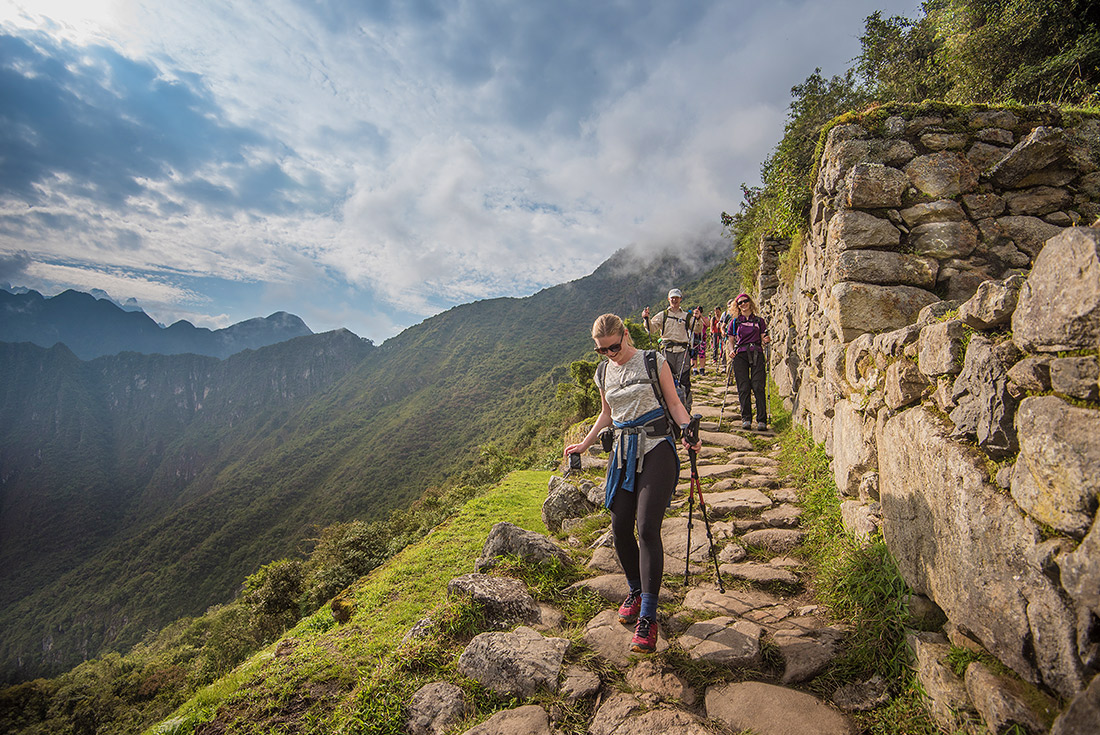 Ecuador, Galapagos & Peru Explorer
This unique adventure focuses on South America's heaviest hitters – the Galapagos Islands, the Inca Trail and the Amazon Jungle. Take 24 days to explore these wildly different parts of the region. Snorkel the turtle-filled waters of Leon Dormido, then walk the cobblestone streets of Cusco. Sit on black-sand beaches watching sea lions lounge and later conquer the 4200-metre-high Dead Woman's Pass. Witness breathtaking natural beauty among the surreal landscapes of the Ecuador Highlands and Galapagos, then wonder at the man-made elegance of Machu Picchu. This tour offers immersive and active adventure led by locals in two bucket-list favourite destinations.
Activities
Amazon - Guided rainforest hike and visit to animal rescue centre
Walking tour of Banos
Quito - Cotopaxi National Park walk
Quito - Local community experience
Otavalo - Market Visit
Isla San Cristobal- Snorkeling in La Loberia (1.5 Hours)
San Cristobal - Excursion to Leon Dormido or Lobos Islands
Isla San Cristobal - Interpretation Center (45 minutes)
Isla San Cristobal - Cerro Tijeretas View Point (1 Hour)
Floreana - Snorkeling
Isla Isabela -Tintoreras or Shark Alley (2.5 Hours)
Isla Isabela - Flamingo lagoon visit (30 Minutes)
Isla Isabela - Giant Tortoise Breeding Centre (1 Hour)
Isla Isabela - Sierra Negra Volcano Hike (5-6 Hours)
Isla Isabela - Kayaking
Santa Cruz Highlands Visit (3 Hours)
Isla Santa Cruz - Tortuga Bay walk
Cusco - Leader-led orientation walk
Sacred Valley - Community visit & lunch
Sacred Valley - Coffee & cake
3 Night/4 Day Inca Trail (or 2 Night/3 Day Inca Quarry Trail) guided hike(s) with porters' support. Or guided Cusco stay (Machu Picchu by train)
Machu Picchu - Guided tour
Highlights
This trip gives both trekkers and non-trekkers the chance to visit Machu Picchu with Inca Trail*, Quarry Trail and train options.
Admire the ingenuity of Inca engineering in the Sacred Valley and contemplate how stone was excavated to build the structures still standing there.
Explore Cusco, South America's oldest continuously inhabited city. The city has ancient foundations, an interesting blend of Incan and colonial influences, and seemingly endless things to do and see.
Snorkel the incredible marine life-filled waters of Kicker Rock, also known as Leon Dormido, one of the best snorkelling spots in the Galapagos and an absolute highlight for many travellers.
Encounter the wildlife wonders of the Galapagos Islands up close. Giant tortoises, blue-footed boobies, sea lions, sea turtles, marine iguanas and more await.
Hike to the top of one of the most active volcanoes in the Galapagos – the Sierra Negra – and peer into the second-largest caldera in the world.
Marvel at the snow-capped Cotopaxi volcano – one of the largest active volcanos in the world – while hiking through Cotopaxi National Park.
Live like a local as you're welcomed into a family home in a sustainable community high in the hills of Ecuador, getting your hands dirty and helping with everyday tasks like reforestation projects, organic gardening or jam making, to name a few.

For over 30 years we've been taking travelers around the globe. That's over 30 years of adventures, of visiting new places and old friends, of countless unforgettable moments. More than 30 years of changing the way people see the world, on small group tours with like-minded Intrepid people.
As a responsible business, we've always been committed to being there for our travelers and the communities we visit. So, you can trust that when you travel with us, we won't just be there for you
...