Bhutan Expedition: Hike the Trans Bhutan Trail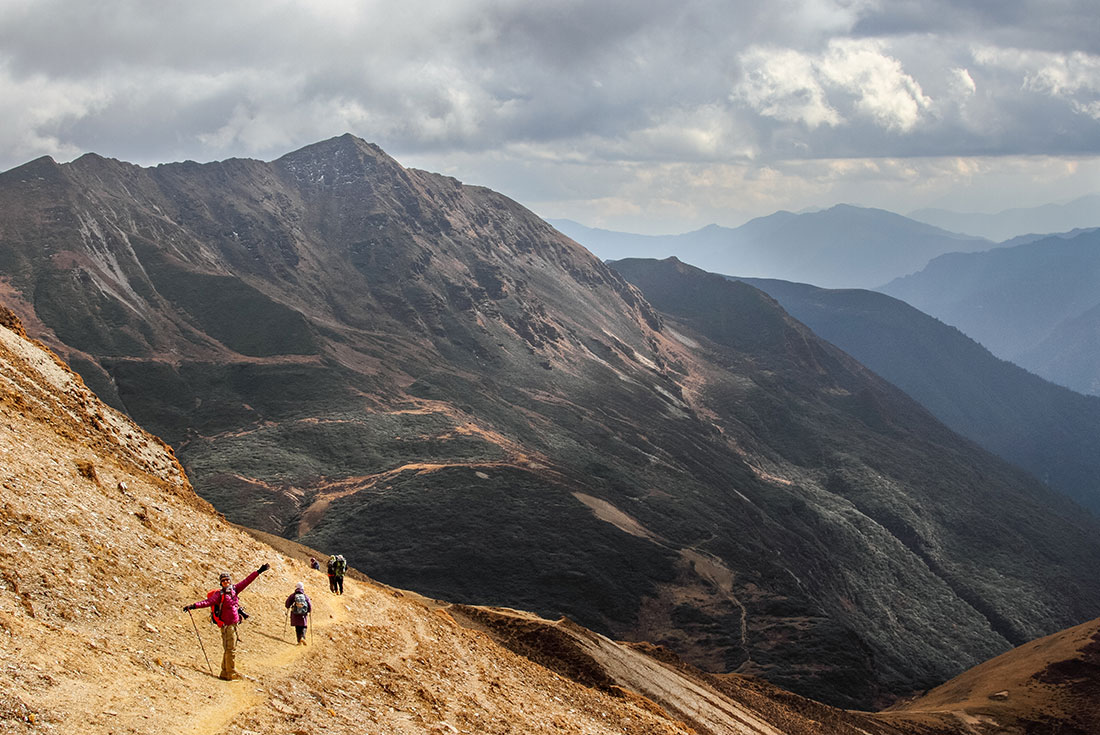 Bhutan Expedition: Hike the Trans Bhutan Trail
The magical kingdom of Bhutan in the Himalayas is nestled between two spiritual hubs, Tibet and India, and is one of Asia's best-kept secrets. On this active adventure, you'll discover there is no better way to explore it than on foot as you hike through a country with so much protected forest, it absorbs more carbon than it uses. Feel closer to enlightenment as you hike along the newly restored Trans Bhutan Trail which will immerse you in the past, present and future of this mystical destination. Uncover Bhutan's rich cultural heritage on a journey that explores its forested valleys, fortified monasteries and sacred mountains on two feet and discover the beauty of its people, landscape and culture with a local leader who will help you unlock its secrets.
Activities
Tachogang Lhakhang temple visit
Thimphu exploratory evening walk
Thimphu - Choki Traditional Art School
Thimphu - National Library
Thimphu - National Memorial Chorten
Zangthopelri Lhakhang temple visit
Buddha Point (Kuensel Phodrang) walk
Dochula Pass hike
Druk Wangyal Lhakhang temple visit
Divine Madman Trail hike
Trans Bhutan trail hike - Pelela pass/Chendebji
Chendebji Chorten monument visit
Trongsa Dzong (Buddhist school) visit
Trans Bhutan Trail hike - Yotongla Pass/Gyaltsa village
Gyaltsa River picnic lunch
Tang Valley walk
Ugyencholing Heritage Museum visit
Tang Valley - Farmhouse lunch
Mebar Tsho (Burning Lake) hike
Trans Bhutan Trail hike - Mangde River/Trongsa
Paro - Tadzong Museum
Trans Bhutan Trail hike - Paro Valley/Dop-Shari
Ema Datshi - traditional Bhutanese lunch
Paro - Taktsang (Tiger's Nest) Monastery hike
Highlights
Take in panoramic views of Himalayas from the Dochula Pass which sits more than 3000 metres above sea level and is home to many fluttering prayer flags.
Hike along the Divine Madman Trail which is believed to be a trail followed by Drukpa Kuenley, a famous Buddhist monk, missionary and poet who came to Bhutan from Tibet.
The country's biggest Dzong, a complex of fortified buildings which served as a Buddhist school, is in Trongsa. Explore this magnificent site at the end of your hike from Chendebji.
Explore the remote, lush and beautiful Tang Valley and Mebar Tsho (Burning Lake) which is famous for being one of the most serene places in Bhutan to meditate.
Journey to Taktsang, commonly known as the Tiger's Nest, a small monastery clinging to a rocky cliff 900 metres above the valley floor, and soak in its magnificence.

For over 30 years we've been taking travelers around the globe. That's over 30 years of adventures, of visiting new places and old friends, of countless unforgettable moments. More than 30 years of changing the way people see the world, on small group tours with like-minded Intrepid people.
As a responsible business, we've always been committed to being there for our travelers and the communities we visit. So, you can trust that when you travel with us, we won't just be there for you
...