Ecuador Highlands & Galapagos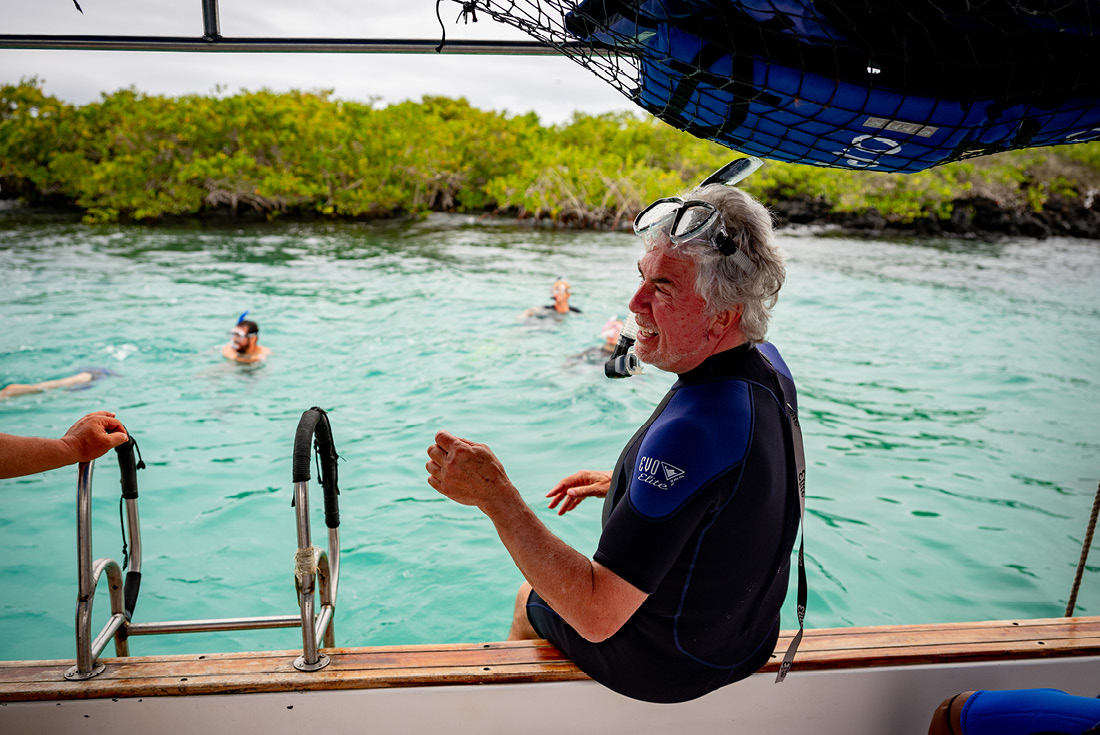 Ecuador Highlands & Galapagos
From the heights of the Andes to the depths of the Amazon Jungle to the amazing wildlife, both on land and underwater. Tour the Galapagos' outstanding natural beauty and interesting history by foot and boat on this active adventure. You'll also walk through the Amazon Jungle with an Indigenous guide leading the way, hike in Cotopaxi National Park – home to one of the world's largest active volcanos – and canoe to your river-side eco-lodge accommodation on the edge of the rainforest. You'll also get a glimpse into everyday life during a homestay with a local family where you'll connect with them, lending a hand with chores, doing seasonal activities and maybe brushing up on your Espanol. There's so much to see, do and learn in this South American paradise.
Activities
Amazon - Guided rainforest hike and visit to animal rescue centre
Walking tour of Banos
Quito - Cotopaxi National Park walk
Quito - Local community experience
Otavalo - Market Visit
Isla San Cristobal- Snorkeling in La Loberia (1.5 Hours)
San Cristobal - Excursion to Leon Dormido or Lobos Islands
Isla San Cristobal - Interpretation Center (45 minutes)
Isla San Cristobal - Cerro Tijeretas View Point (1 Hour)
Floreana - Snorkeling
Isla Isabela -Tintoreras or Shark Alley (2.5 Hours)
Isla Isabela - Flamingo lagoon visit (30 Minutes)
Isla Isabela - Giant Tortoise Breeding Centre (1 Hour)
Isla Isabela - Sierra Negra Volcano Hike (5-6 Hours)
Isla Isabela - Kayaking
Santa Cruz Highlands Visit (3 Hours)
Isla Santa Cruz - Tortuga Bay walk
Highlights
Stay on the edge of the Amazon Rainforest in eco lodge-style accommodation on the banks of the Arajuno River and enjoy a special evening walk through the jungle under the night sky.
Walk in the rainforest with an Indigenous guide by your side to lead the way, point out local birds and teach you about the incredible plant life that thrives here. Then, visit an Amazon animal rescue centre.
Marvel at the snow-capped Cotopaxi volcano – one of the largest active volcanos in the world – while hiking through Cotopaxi National Park.
Live like a local as you're welcomed into a family home in a sustainable community high in the hills of Ecuador, getting your hands dirty and helping with everyday tasks like reforestation projects, organic gardening or jam making, to name a few.
Get your blood pumping as you scale a volcano on Isabela Island, then get up close and personal with giant tortoises on Santa Cruz Island. These nearly extinct creatures are one of the greatest drawcards to the Galapagos.

For over 30 years we've been taking travelers around the globe. That's over 30 years of adventures, of visiting new places and old friends, of countless unforgettable moments. More than 30 years of changing the way people see the world, on small group tours with like-minded Intrepid people.
As a responsible business, we've always been committed to being there for our travelers and the communities we visit. So, you can trust that when you travel with us, we won't just be there for you
...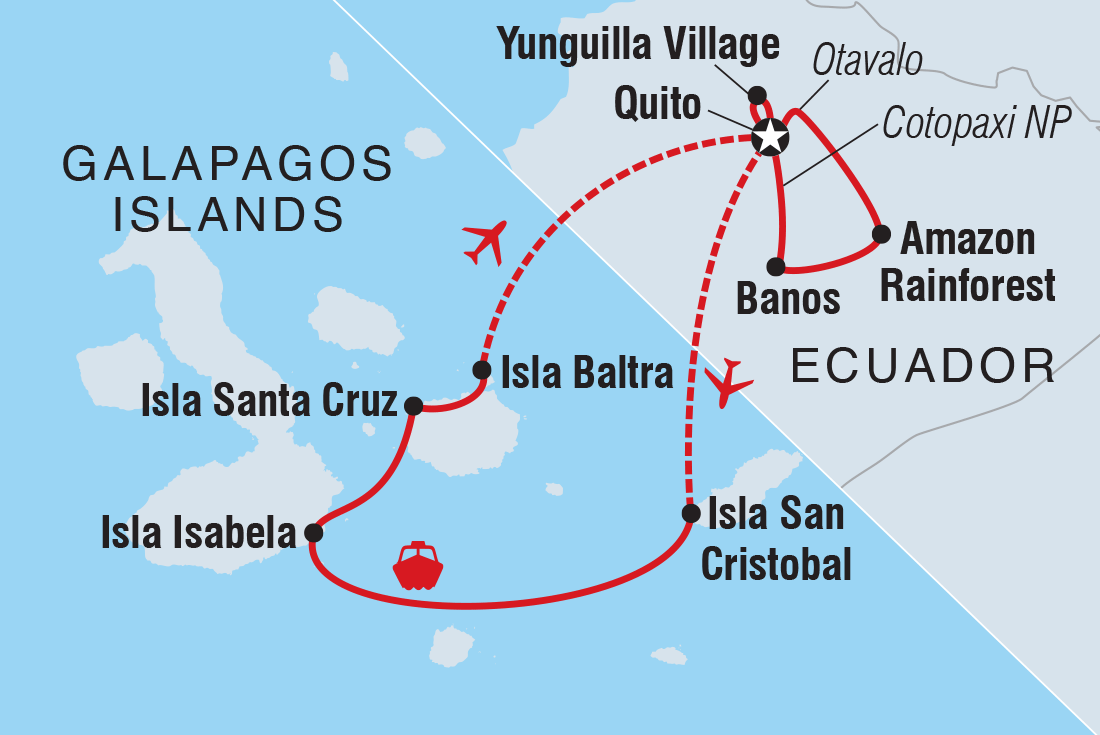 Day
Destination
1
Quito
2
Tena - Amazon
3
Tena- Amazon
4
Banos
5
Cotopaxi National Park- Yunguilla Community Stay
6
Yunguilla Community Stay
7
Otavalo-Quito
8
Quito
9
Isla San Cristobal, Galapagos
10
Isla San Cristobal
11
Isla Floreana/ Isla Isabela
12
Isla Isabela
13
Isla Isabela
14
Isla Isabela / Isla Santa Cruz
15
Isla Santa Cruz
16
Quito
17
Quito