Victoria Falls Highlights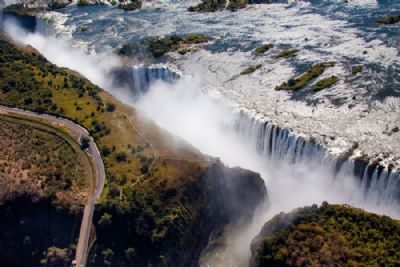 Victoria Falls Highlights
Venture to the commanding kingdom of Victoria Falls. Discover one of the seven natural wonders of the world as 650 million liters of water crash into the Zambezi River. Relax and enjoy a leisurely sunset cruise down the Zambezi River with incredible views of the African bush, beauty you have to see to believe. This extension is the perfect addition to your Swain Destinations African itinerary.
Your Itinerary Includes:
Roundtrip airport transfers
2 nights Victoria Falls
Zambezi River cruise
Private tour of Victoria Falls
Meals: 2 breakfasts
Adventure and Active
Family Vacations
Luxury
Safari, Animals, and Wildlife
Spa and Fitness Trips

Customizing the travel experience, Swain Destinations is the leading U.S. provider of completely personalized exotic vacation experiences. Since 1987, Co-Founders Ian and Linda Swain, and their dedicated team of destination experts have offered American travelers the opportunity to design distinctive trips to intriguing international locales, including Australia, New Zealand, the South Pacific, Asia, India, and Africa. From adventure-packed trips to leisurely getaways, Swain Destinations curates
...