The Heart of Kenya & Tanzania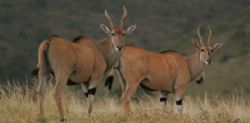 The Heart of Kenya & Tanzania
Plenteous and Pithy East Africa
The names alone are magic: The Serengeti. Ngorongoro Crater. The Maasai Mara. We're reminded that when we travel, we visit names as well as places-names with romantic heft, names that resound, names that may have captivated us for many years. Names like Ngorongoro. (Then again, if we'd never heard that sonorous name, and we made the exhilarating drive up the flank of the old volcano and reached its rim and suddenly beheld the green and animal-thronged crater far below, Ngorongoro would be just as utterly amazing.)
In less than two weeks, The Heart of Kenya and Tanzania introduces us-or re-introduces us-to places with famous names, but most of all, it brings us to fantastic places, fantastic in the sense that their like is to be found exactly nowhere else on earth.
Safari Highlights
Focus on game activities in East Africa's most bountiful wildlife areas, emphasizing big herds and their predators.
A visit to the Olduvai Gorge, where the Leakey family unearthed our ancestor, the 1.75 million year-old fossil Homo habilis.
Spectacular early evening sundowners, unscripted, familial visits in Maasai villages and dining in Nairobi with Micato's founders, Jane and Felix Pinto.
Expert, unstinting service from your Micato Safari Director and our unique 24-hour Concierge Service.
Visit to AmericaShare's soul-expanding Harambee Centre in Nairobi.
Luxury
Safari, Animals, and Wildlife

Back in 1966, Felix Pinto, a ranking member of the ex-British Kenyan government, started a luxury safari company. He also dabbled in gentleman farming on the family's rambling acreage outside Nairobi, which was even profiled in the prestigious American edition of Geo magazine. Micato's private safaris ultimately prevailed over farming and forty-five years and a Stanford, Harvard and Stanford Business School graduation later, the Pintos are joined by their (well educated!) children in the runni
...