West Coast & Ningaloo Reef Adventure (Southbound)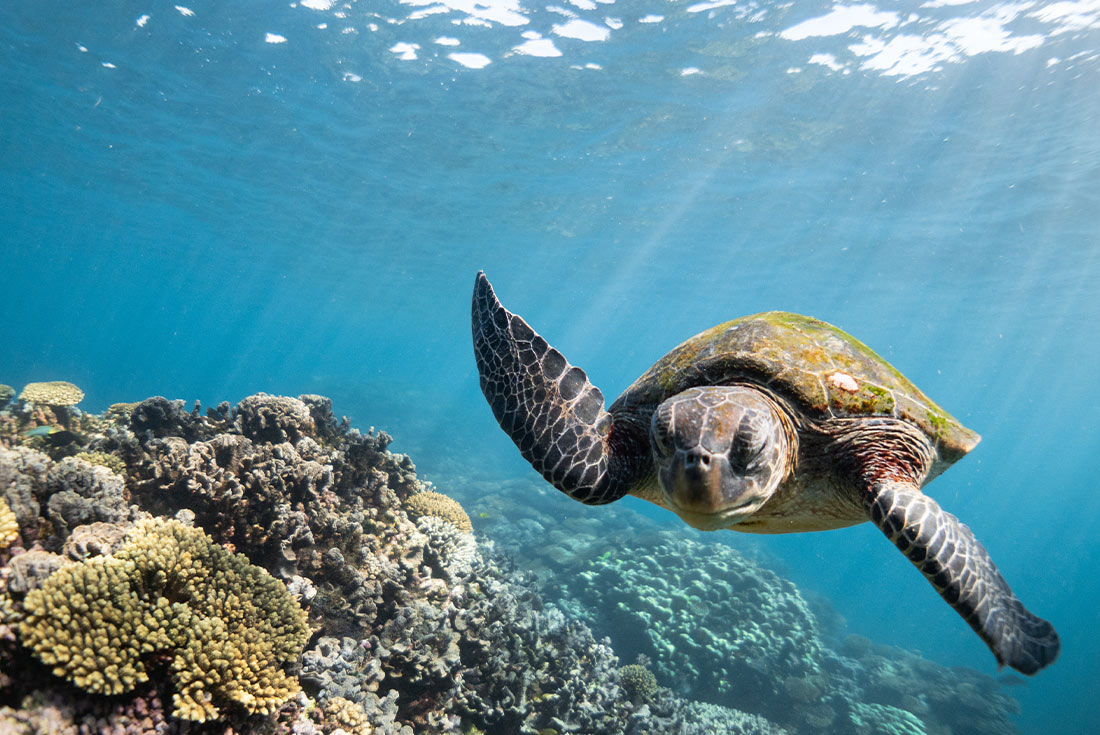 West Coast & Ningaloo Reef Adventure (Southbound)
Fall under the spell of Western Australia on a seven-day adventure along its glittering coast. From sun-scorched earth to inviting blue waters, discover the state's diversity as you travel from Exmouth to Perth (Boorloo in the language of the local Whadjuk Nyoongar people, who are the traditional owners of the land on which Perth is now located) with a passionate local leader. See beneath the surface of Ningaloo Reef in a glass-bottom boat, watch dolphins being fed in Monkey Mia, explore the rugged landscapes of Kalbarri National Park and marvel at The Pinnacles at Nambung National Park. With rich First Nations history, National Trust-listed towns and mind-blowing scenery, you'll soon see that Australia's west coast is like nowhere else on earth.
Activities
Cape Range National Park - Guided Hike & Milyering Visitor Centre
Exmouth - Vlamingh Head Lighthouse
Ningaloo Reef - Glass Bottom Boat Cruise & Snorkelling Experience
Carnarvon - Gwoonwardu Mia Gascoyne Aboriginal Heritage and Cultural Centre
Monkey Mia - Didgeridoo Dreaming Night Tour
Shark Bay - Eagle Bluff Boardwalk
Shark Bay - Shell Beach
Shark Bay - Hamelin Pool Marine Nature Reserve
Monkey Mia - Dolphin Experience
Kalbarri National Park - Z Bend, Nature's Window & Kalbarri Skywalk
Kalbarri - Rock Lobster boat tour
Coral Coast - Hutt Lagoon (Pink Lake)
Northampton - Ku'arlu Mangga (Good Nest) Gallery visit
Geraldton - Leader-led town walk
Indian Ocean Drive - Leaning Trees of Greenough
Coral Coast - Lancelin Sand Dunes
Nambung National Park - The Pinnacles Desert
Highlights
Watch Parks and Wildlife rangers feed the resident dolphins at Monkey Mia and learn about these animals and other marine creatures which call these pristine waters home.
Snorkel the turquoise waters of Ningaloo Reef, where you'll have views of the rich and diverse marine life and colourful coral underneath.
Join an evening First Nations experience where you will learn about Gutharraguda (Shark Bay) from the Nhanda and Malgana people. Try your hand at playing the didgeridoo or traditional conch shell and taste some bush tucker prepared by your hosts over the open fire.
Jump on a boat at the Kalbarri Marina and set sail for the open ocean where you'll learn about the local rock lobster industry and help pull up some lobster pots and re-bait them, ready to catch more delicious rock lobster.
Visit The Pinnacles at Nambung National Park where natural limestone pillars tower above the sand to create an otherworldly landscape.

For over 30 years we've been taking travelers around the globe. That's over 30 years of adventures, of visiting new places and old friends, of countless unforgettable moments. More than 30 years of changing the way people see the world, on small group tours with like-minded Intrepid people.
As a responsible business, we've always been committed to being there for our travelers and the communities we visit. So, you can trust that when you travel with us, we won't just be there for you
...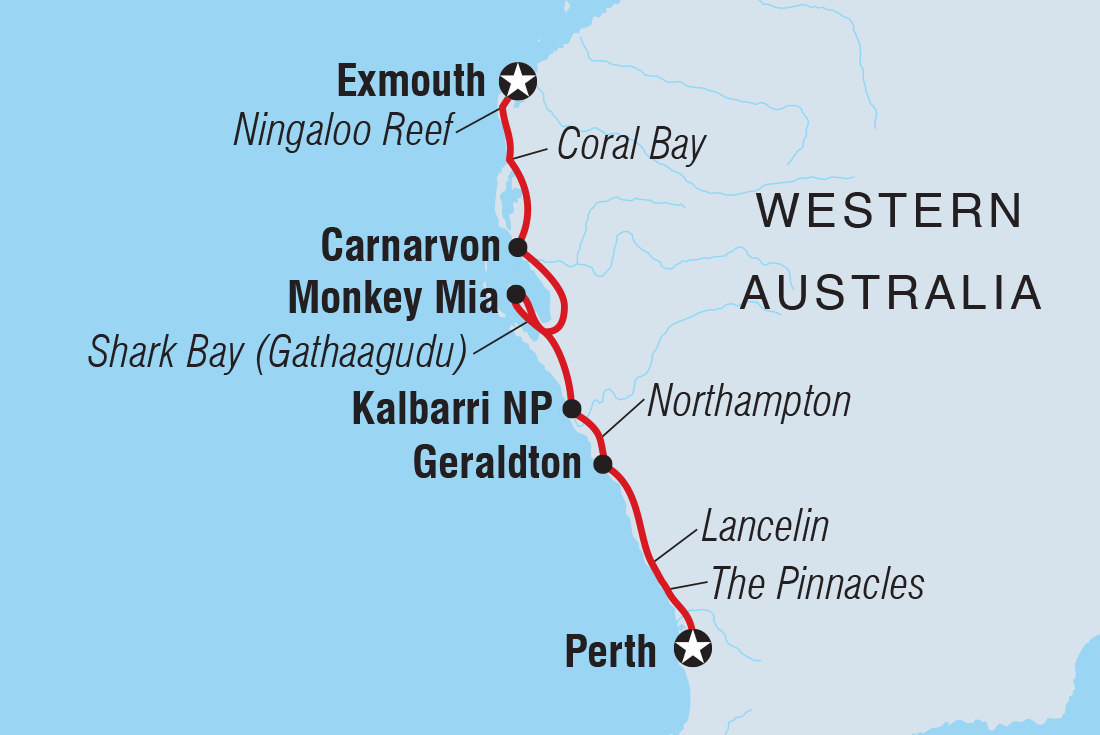 Day
Destination
1
Ningaloo Reef / Exmouth
2
Coral Bay / Ningaloo Reef / Carnarvon
3
Shark Bay / Monkey Mia
4
Shark Bay / Kalbarri National Park
5
Kalbarri National Park
6
Northampton / Geraldton
7
Pinnacles / Perth