Jordan, Israel & the Palestinian Territories Real Food Adventure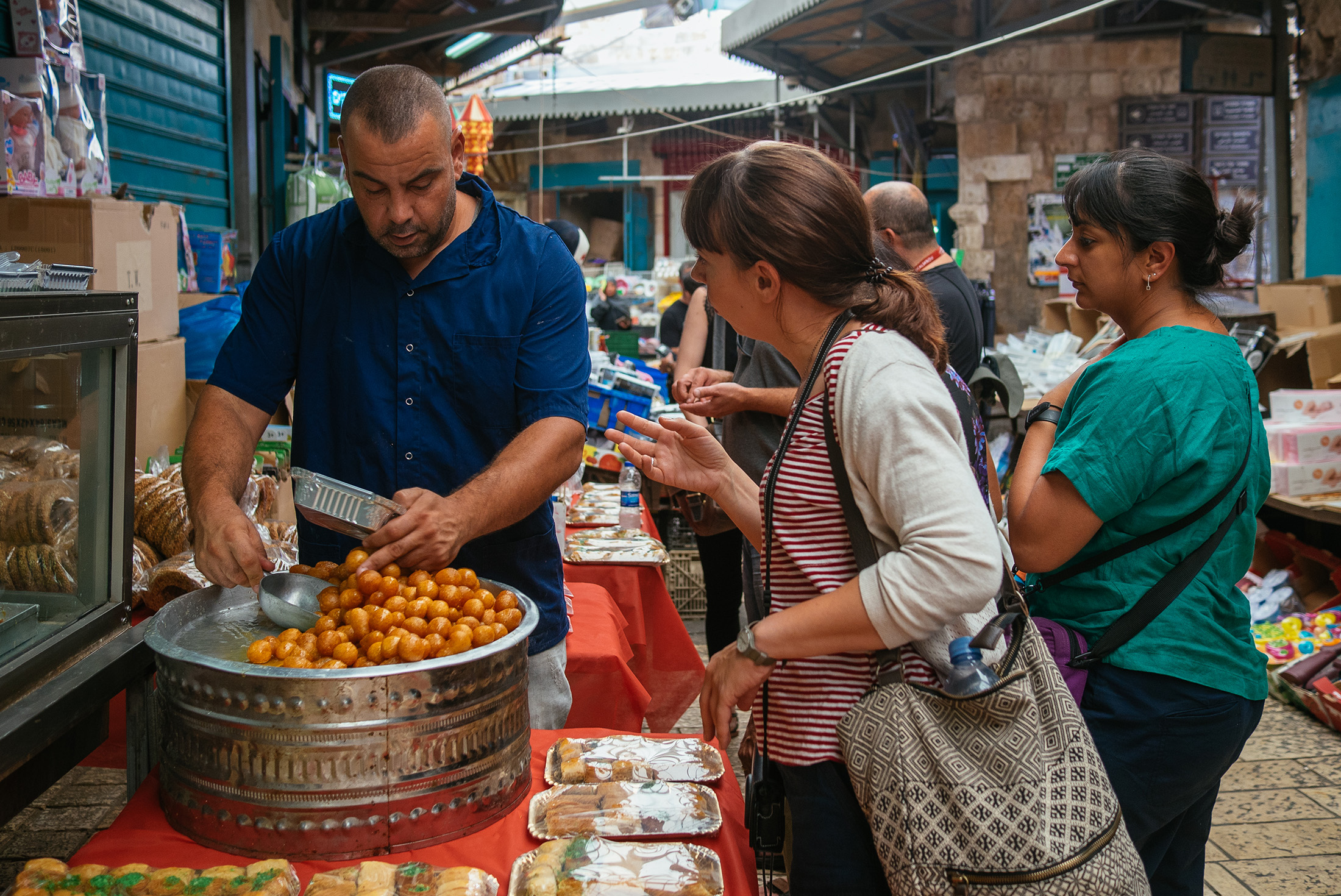 Jordan, Israel & the Palestinian Territories Real Food Adventure
Discover the rich history and richer flavours of Jordan, Israel and the Palestinian Territories on this 14-day Real Food Adventure. Here, the sweeping deserts of Wadi Rum offer themselves to roast Bedouin feasts underground, the Dead Sea grants its salt as a world-class garnish and the region's climate has allowed olives to thrive for over 6000 years. Savour sabiach in Tel Aviv, learn the tricks of tahini from the Samaritans of Nablus, break bread with Druze folk and sample mouth-watering knafeh in Amman. In between these delicious diversions, float on the Dead Sea, see the holy sites of Jerusalem and explore rock-hewn Petra. Brimming with charismatic culture and lively dishes, this is an epicurean odyssey to remember.
Activities
Tel Aviv - Welcome Dinner
Haifa - Bahai Gardens view & photo stop
Jaffa - Old Port
Druze Village - Cooking demonstration and home-cooked meal
Nazareth - Wine Tasting
Akko - Old Town walk
Nazareth - Knafeh maker visit and tasting
Nazareth - Church of Annunciation & Mary's Well
Nazareth - Old City walking tour
Jordan River - Baptism Site
Jericho - Tel Jericho
Bethany - Home-cooked meal of maqluba
Dead Sea - Visit and float
Jerusalem - Mount of Olives
Jerusalem - Garden of Gethsemane
Jerusalem - Church of All Nations
Jerusalem - Guided tour of Old City
Jerusalem - Guided tour of Machane Yehuda Market and Nachlaot
Ramallah - Food tour with a local chef
Taybeh - Brewery tour and tasting
Nablus - Samaritan & Tahini Factory visit
Battir - Guided Village Walk
Bethlehem - Church of the Nativity & Shepherds' Field
Bethlehem - Leader-led walking tour
Bethlehem - Refugee Camp Cooking Class
Amman - Welcome Dinner
Madaba - St Georges Church
Dead Sea - Visit and float
Petra - Home-cooked meal
Petra - Leader-led tour of Petra
Wadi Rum - 4WD jeep safari
Wadi Rum - Zarb Local Dinner
Petra - Breakfast with a shepherd
Amman - Beit Sitti maqluba cooking class and meal
Amman - Knafeh tasting
Highlights
Let three sisters share their grandmother's traditional recipes with you during a hands-on cooking class in Amman. Learn how to make a tasty maqluba, one of Jordan's most beloved dishes.
Feast on classic dishes in Israel's legendary local eateries, from falafel, knafeh, and maqluba and fresh sabich to an institution in Nazareth acclaimed for its silky hummus.
Uncover ancient traditions and flavours with a Jordanian shepherd over a typical mezze breakfast, a chance to learn about life in the countryside.
Marvel at the majesty of Petra on a guided tour, speed through the desert on a jeep safari in Wadi Rum and float in the salty waters of the Dead Sea, the lowest point on earth.
Share authentic home cooked meals with Druze villagers and a local family in Bethany, and learn about life in Petra when you sit down with a local family for a hearty serving of mansaf.

For over 30 years we've been taking travelers around the globe. That's over 30 years of adventures, of visiting new places and old friends, of countless unforgettable moments. More than 30 years of changing the way people see the world, on small group tours with like-minded Intrepid people.
As a responsible business, we've always been committed to being there for our travelers and the communities we visit. So, you can trust that when you travel with us, we won't just be there for you
...