128 Days, Wild Kingdoms & Exotic Discoveries
on Crystal Serenity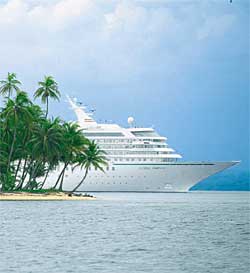 128 Days, Wild Kingdoms & Exotic Discoveries
Man-made wonders from the Panama Canal to the temples of Bagan and the pyramids of Giza are among the 70 UNESCO marvels on this 128-night odyssey featuring islands from Fiji to the Maldives and wilderness wonders from Papua New Guinea to Africa.

Since the beginning, Crystal has been the standard-bearer for excellence in luxury travel, remaining the undisputed choice among the savviest world travelers. Today, we are redefining it altogether, expanding the possibilities for our guests with choices, experiences and luxuries unmatched in the industry. By Ocean, River, Yacht, Expedition and Air, each Crystal Experience is designed to showcase the world and its wonders in the most remarkable ways. Join us as new adventures unfold...


| Day | Destination | Arrive | Depart |
| --- | --- | --- | --- |
| Wed | Miami, US | | 05:00 PM |
| Thu | Cruising The Atlantic Ocean | | |
| Fri | Cruising Old Bahama Channel | | |
| Sat | St. Barts/Gustavia, BL | 08:00 AM | 10:00 PM |
| Sun | Cruising The Caribbean Sea | | |
| Mon | Curacao/Willemstad, CW | 08:00 AM | 06:00 PM |
| Tue | Cruising The Caribbean Sea | | |
| Wed | Transit The Panama Canal | | |
| Wed | Panama City, PA | 07:00 PM | |
| Thu | Panama City, PA | | 05:00 PM |
| Fri | Cruising The Coast Of Colombia | | |
| Sat | Manta, EC | 05:00 AM | 05:00 PM |
| Sun | Guayaquil, EC | 07:00 AM | 08:00 PM |
| Mon | Cruising Cent. America's Coast | | |
| Tue | Salaverry, PE | 08:00 AM | 04:00 PM |
| Wed | Lima/Callao, PE | 08:30 AM | |
| Thu | Lima/Callao, PE | | 06:00 PM |
| Fri | Cruising The Pacific Ocean | | |
| Sat | Cruising The Pacific Ocean | | |
| Sun | Cruising The Pacific Ocean | | |
| Mon | Cruising The Pacific Ocean | | |
| Tue | Easter Island (Isla de Pascua), CL | 08:00 AM | |
| Wed | Easter Island (Isla de Pascua), CL | | 04:00 PM |
| Thu | Cruising The Pacific Ocean | | |
| Fri | Cruising The Pacific Ocean | | |
| Sat | Pitcairn Island/Adamstown, PN | 08:00 AM | 04:00 PM |
| Sun | Cruising The Pacific Ocean | | |
| Mon | Cruising The Pacific Ocean | | |
| Tue | Moorea, PF | 08:00 AM | 06:00 PM |
| Wed | Bora-Bora, PF | 07:30 AM | |
| Thu | Bora-Bora, PF | | 06:00 AM |
| Thu | Raiatea, PF | 08:30 AM | 06:00 PM |
| Fri | Papeete, PF | 08:00 AM | |
| Sat | Papeete, PF | | 05:00 PM |
| Sun | Cruising the South Pacific | | |
| Mon | Rarotonga, CK | 08:00 AM | 06:00 PM |
| Tue | Cruising the South Pacific | | |
| Thu | Crossing Dateline - Lose 1 day | | |
| Fri | Nuku'alofa, TO | 08:00 AM | 06:00 PM |
| Sat | Cruising the South Pacific | | |
| Sun | Lautoka, FJ | 07:30 AM | 06:00 PM |
| Mon | Yasawa Island, FJ | 07:30 AM | 04:00 PM |
| Tue | Cruising the South Pacific | | |
| Wed | Lifou, NC | 08:00 AM | 06:00 PM |
| Thu | Ile des Pins, NC | 08:00 AM | 06:00 PM |
| Fri | Nouméa, NC | 08:00 AM | 06:00 PM |
| Sat | Cruising The Pacific Ocean | | |
| Sun | Cruising The Pacific Ocean | | |
| Mon | Sydney, AU | 08:00 AM | |
| Tue | Sydney, AU | | 06:00 PM |
| Wed | Cruising The Pacific Ocean | | |
| Thu | Brisbane, AU | 07:00 AM | 10:00 PM |
| Fri | Mooloolaba, AU | 08:00 AM | 05:00 PM |
| Sat | Gladstone, AU | 08:00 AM | 05:00 PM |
| Sun | Cruising The Pacific Ocean | | |
| Mon | Cruising The Pacific Ocean | | |
| Tue | Gualalacanal/Honaira, SB | 08:00 AM | 06:00 PM |
| Wed | Gizo, SB | 08:00 AM | 04:00 PM |
| Thu | Rabaul, PG | 03:00 PM | |
| Fri | Rabaul, PG | | 06:00 PM |
| Sat | Cruising the Bismark Sea | | |
| Sun | Madang, PG | 07:00 AM | 06:00 PM |
| Mon | Wewak, PG | 07:00 AM | 06:00 PM |
| Tue | Cruising The Pacific Ocean | | |
| Wed | Cruising the Molucca Sea | | |
| Thu | Ternate, ID | 07:00 AM | 05:00 PM |
| Fri | Cruising the Molucca Sea | | |
| Sat | Komodo, ID | 09:30 AM | 06:00 PM |
| Sun | Bali/Benoa, ID | 10:00 AM | |
| Mon | Bali/Benoa, ID | | 10:00 PM |
| Tue | Cruising The Bali Sea | | |
| Wed | Semarang, ID | 07:00 AM | 07:30 PM |
| Thu | Cruising The Java Sea | | |
| Fri | Singapore, SG | 12:00 PM | |
| Sat | Singapore, SG | | 06:00 PM |
| Sun | Port Kelang (for Kuala Lumpur), MY | 08:00 AM | 07:00 PM |
| Mon | Langkawi, MY | 08:00 AM | 06:00 PM |
| Tue | Phuket, TH | 08:00 AM | 10:00 PM |
| Wed | Cruising The Andaman Sea | | |
| Thu | Yangon, MM | 12:00 PM | |
| Fri | Yangon, MM | | |
| Sat | Yangon, MM | | 12:00 PM |
| Sun | Cruising The Andaman Sea | | |
| Mon | Port Blair, IN | 06:00 AM | 06:00 PM |
| Tue | Cruising The Bay Of Bengal | | |
| Wed | Chennai (Madras), IN | 01:00 PM | |
| Thu | Chennai (Madras), IN | | 06:00 PM |
| Fri | Cruising The Indian Ocean | | |
| Sat | Colombo, LK | 06:00 AM | |
| Sun | Colombo, LK | | 07:00 PM |
| Mon | Cruising The Indian Ocean | | |
| Tue | Haa Alif Atoll (Utheemu), MV | 07:00 AM | 06:00 PM |
| Wed | Male, MV | 07:30 AM | 05:00 PM |
| Thu | Cruising The Indian Ocean | | |
| Fri | Cruising The Indian Ocean | | |
| Sat | Mahe/Victoria Harbor, SC | 08:00 AM | |
| Sun | Mahe/Victoria Harbor, SC | | 06:00 AM |
| Sun | Praslin, SC | 07:30 AM | 06:00 PM |
| Mon | Cruising The Indian Ocean | | |
| Tue | Cruising The Indian Ocean | | |
| Wed | Zanzibar, TZ | 07:00 AM | 10:00 PM |
| Thu | Dar Es Salaam, TZ | 07:00 AM | 07:00 PM |
| Fri | Mombasa, KE | 06:00 AM | |
| Sat | Mombasa, KE | | |
| Sun | Mombasa, KE | | 06:00 PM |
| Mon | Cruising The Indian Ocean | | |
| Tue | Cruising The Indian Ocean | | |
| Wed | Cruising The Indian Ocean | | |
| Thu | Cruising The Indian Ocean | | |
| Fri | Salalah, OM | 07:00 AM | 01:00 PM |
| Sat | Cruising The Gulf Of Aden | | |
| Sun | Cruising The Red Sea | | |
| Mon | Cruising The Red Sea | | |
| Tue | Al 'Aqabah, JO | 09:00 AM | 09:30 PM |
| Wed | Luxor & Karnak/Safaga, EG | 07:00 AM | 11:59 PM |
| Thu | Sharm el Sheikh, EG | 07:00 AM | 09:00 PM |
| Fri | Sokhna, EG | 07:30 AM | 11:00 PM |
| Sat | Transit the Suez Canal | | |
| Sun | Cruising The Mediterranean Sea | | |
| Mon | Kusadasi, TR | 08:00 AM | 11:00 PM |
| Tue | Mykonos, GR | 07:30 AM | 06:00 PM |
| Wed | Athens/Piraeus, GR | 02:00 AM | 06:00 PM |
| Thu | Bodrum, TR | 08:00 AM | 10:00 PM |
| Fri | Santorini (Thíra), GR | 07:00 AM | 10:00 PM |
| Sat | Chania, GR | 08:00 AM | 10:00 PM |
| Sun | Cruising The Ionian Sea | | |
| Mon | Brindisi, IT | 08:00 AM | 09:00 PM |
| Tue | Dubrovnik, HR | 01:00 AM | 06:00 PM |
| Wed | Koper, SI | 01:00 PM | 08:00 PM |
| Thu | Venice (Venezia), IT | 08:00 AM | |
| Fri | Venice (Venezia), IT | | |